Syringe pipettes
Dosys™
basic 162 syringe pipette
Automatic, two-ring syringe pipette without valve system. Luer Lock nozzle. Volumes ranging 0.1 to 5 mL. One-year warranty. Ideal for dispensing aquous, non corrosive liquids in many laboratory applications.
Optimal hand balance and ergonomics
Fast and reliable volume setting
Excellent reproducibility
Plunger tightness without O-ring
High chemical resistance
Fully autoclavable at 121°C / 250 °F
---



0.1 - 1 mL
0.3 - 2 mL
0.5 - 5 mL
Dose by dose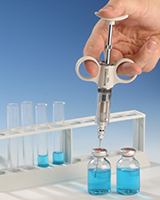 Sampling with 162 and 172 models (or 164 / 174 models after removing the detachable valve assembly). Both spring-assisted aspiration and distribution occur through the cannula.
Videos & Documents